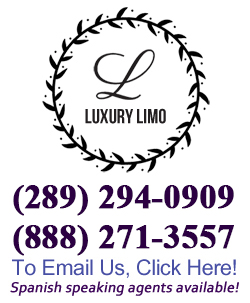 Terms & Conditions
All bookings require a security hold on a credit card or a security deposit to hold a limo under your name, the security hold on a credit card will be released upon full payment on the initial pick-up either with the same credit card, a different card or cash, the price remains the same regardless of the payment form.

In case of cancellation any deposit is NON refundable, 30% security is required upon booking, cancellation charges applies at 30% as soon as a reservation is made. If you decide to cancel within 48 hours before the trip reservation date it would be 50% of the booking total.

All bookings include the service charge fee which covers partially the driver's gratuity and part for the preparation and cleaning of the limo. In the event of incurred fees during the trip due to waiting time, extra stops or toll charges, that were not prearranged when booking, if paid in cash, please make sure you have an electronic receipt with this after the service is completed by contacting our office via email, there must be proof of payment on the day when you paid of any extra charges, this has to be verified with the office before you pay any extra charges. The outstanding balance is required in full to the driver on the trip date before the beginning of a trip, all drivers carry manual imprinters to swipe all major credit card. Our vehicles are not to be loaded beyond its permitted seating capacity.

The company is not liable in the event of a mechanical breakdown while on charter; if available we will send out a backup with the same standard limo or higher standard, and will only be responsible for making up lost time at a mutually agreed date.

In some cases, traffic is not on our side, we are not responsible for delays due to congestion or the termination in winter caused by unsafe road conditions (i.e. not salted; accidents, etc.). We are not responsible for articles left in any limousine.

The client assumes full financial liability for any damages to the limousine caused during the duration of the rental by them or any members of their party. A fee of $100.00 for each carpet destroyed or seat burn (i.e. cigarette); sanitation/cleaning fee caused (by vomiting) is $250.00.

Ontario Law prohibits alcohol consumption in any moving vehicle including limousines.

With the exception of weddings were we supply complimentary champagne, no employee of Toronto Limo Service will supply in addition to this or purchase alcohol for clients. Drug use is also prohibited. The customer is liable for any fines up to $500.00 by the M.T.O / O.P.P. incurred by such action and client is fully responsible for breaking the law.

Although we will not stop people over the legal age to consume alcohol, we are in no way held responsible neither can we be represented to legally permit its use it in any of our limos. Our chauffeurs have full discretion to decline consumption of alcohol as it is his/her driving license at stake.

The driver has the right to terminate a trip without refund (if there is blatant indiscretion on the part of the client(s)), including verbal or physical abuse. It is Illegal to stand through the sunroof. Smoking is not permitted in any of the vehicles. Overtime pay will apply after the first 15 minutes (grace) of the prearranged time described on the trip sheet.